Tune in to the KORN Morning Show every weekday morning at 6:35a for the Nitty Gritty From Music City!
Check back here every weekday for the full stories about your favorite country artists and other probably-important news from the country-sphere!
Sept. 17th, 2014
Miranda Lambert is fierce, but she is also just a softy soft. And I love her for it. She had a show in Corpus Christi and noticed one of the fans in the audience was fighting cancer. Miranda bent down and grabbed the 7 year old girl's hand to serenade her. When she was done, Miranda was noticeably in tears. Witness the warm and fuzzy moment below…
—————————————————————————————————————— 
Miranda's hubby Blake was also doing some good and some serenading. Shelton, along with JCPenney, presented a $10,000 gift card to the USO to support families in need. Then he pulled 3 members of the US Navy up on stage and sang his hit "Home". Shelton is a JCPenney Cares Ambassador and in two years, their partnership has raised nearly $5 million dollars for the USO. Neat-o gang!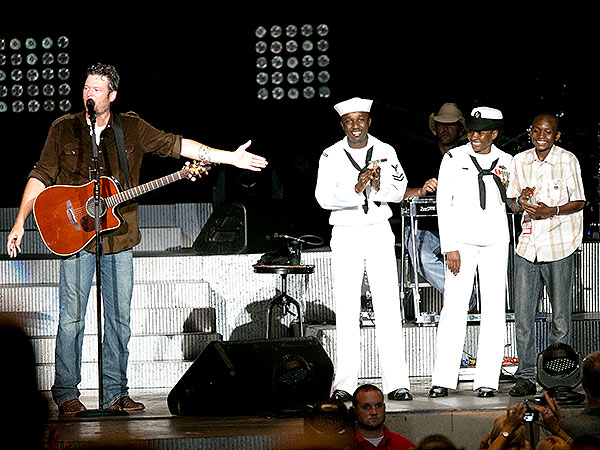 ——————————————————————————————————————-
Christmas is comin' ya'll! And good news! Darius Rucker will release his first Christmas album, Home For The Holidays. You'll hear two Rucker originals, "Candy Cane Christmas" and "What God Wants For Christmas." And I'm so glad he's including one of my faves, "Baby It's Cold Outside". Sheryl Crow will be the other part of the duo for that tune. Look for the album October 27th!